Build up Nation for Christ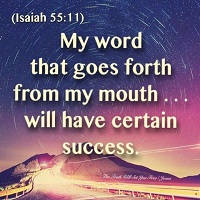 The Lord says,
'I have written to him the great things of my law, but they were counted as a strange thing' – Hosea 8:12

The Lord says in Isaiah 55:10,11, 'For as the rain comes down, and the snow from heaven, and returns not there, but waters the earth, and makes it bring forth and bud, that it may give seed to the sower, and bread to the eater: So shall my word be that goes forth out of my mouth: it shall not return unto me void, but it shall accomplish that which I please, and it shall prosper in the thing for which I send it'.

Paul says in Hebrew 4:12, 'For the word of God is living, and powerful, and sharper than any two-edged sword, piercing even to the diving asunder of soul and spirit, and of the joints and Marrow, and is a discerner of the thoughts and intents of the heart'.

Jeremiah 15:16 reads, 'Your words were found, and I did eat them; and your word was unto me the joy and rejoicing of my heart: for I am called by your name, O LORD God of Hosts'.