About The Rajkumars, Professorial Family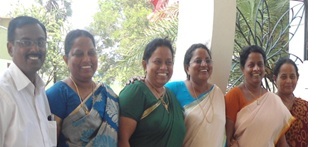 Prof. S.Rajkumar was born on 11.07.1937 at Virudhunagar. He was the eldest son in a respectable pastoral family. He finished his school education in public schools where his father was working as a Pastor. He did his higher education at Loyola College, Chennai. After completing B.A (Hons.) degree at Loyola College, Chennai, he was first appointed as a teacher in St. Paul High School, Chennai, and then joined as a Lecturer in Mathematics at Voorhees College, Vellore in 1959 and afterwards, he finished his M.Sc degree at Loyola College and in the mean time he got married in 1963 and continued his service at Voorhees College. He also passed the UPSC examinations and didn't undertake the job for he loved teaching profession. He had also been selected for a US Government Scholarship to pursue higher studies in Mathematics at United States of America by the United States Educational Foundation in India and due to some unavoidable circumstances he didn't go there.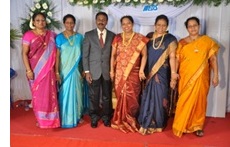 Being the eldest son in the family, he reduced the burden of his father from his shoulders and rendered his helping hand in bringing up the lives of his siblings along with his wife Mrs. Vethavalli Rajkumar. He gave all physical, financial and moral support to the upliftment of the family because he loved his family very much and respected his parents from the core of his heart.
He worked in Voorhees College for 11 years till 1970. After leaving Voorhees, he was appointed as the Head and Professor of Mathematics at PMT College, Usilampatti, and worked there till 1976. Later on, He came to Porayar in 1976 and joined as the Head and Professor of Mathematics at TBML College and rendered his service till his retirement on 31st May 1996. He had a rich teaching experience of 38 years. He proved himself as an excellent teacher and a mentor in inculcating good qualities among students. He spent most of his time in doing God's ministry apart from his academic work and He lived as a witness for Christ till his end.
At Voorhees, he took charge as Warden of Chamberlain Hostel, Secretary of the Hostel Board, NCC officer and Academic Council member of Madras University representing the teaching faculty. During his academic life, he attended UGC sponsored Orientation Courses, Summer Institutes and Seminars. He also acted as a trainer in a training programme for the college teachers conducted by Madurai Kamaraj University. He authored a book entitled 'Analytical Geometry of three dimensions' and it was published by Tamil Nadu Textbook Society, Chennai. He was encouraged by the Government to translate the Book in Tamil and it was translated and kept in National Library, Calcutta, and he was awarded by the Government for the same. In his tenure as Professor, he held various positions as Member, Board of Studies, Autonomous Colleges, Chairman, Board of Studies (UG), Bharathidasan University, Member, Board of Studies (PG), Bharathidasan University, Chairman, Examination Board (UG), Bharathidasan University, Chairman, Examination Board (PG), Bharathidasan University, Member, Standing Committee, Bharathidasan University, Chairman, Inspection Committee for constituting new colleges in Bharathidasan University, Examiner, TNPSC, at PG level, and so on.
His life in T.B.M.L. College is remarkable. He had a great affinity and love for the college and the department till his last breath. Being a man of values, he got the respect of his colleagues and students. He never showed any differences among students as well as people. He always showed a kind, gentle and loving attitude towards everyone. He was known for his punctuality in the campus. He was very prompt in taking classes. He was a good speaker, preacher and an orator in both Tamil and English languages. He liked to give inspiring and interesting lectures in various association meetings and seminars and especially in the English department of TBML College. He was very intelligent and a great scholar and had a good command over English language. He was a dictionary of knowledge and words. He was capable of explaining the meaning of English words and concepts with beautiful illustrations.
He used to rise at dawn and spent most of his morning hours with God so that it was possible for him to show a loving and gentle attitude towards everyone. He was a good counselor and believed in personal evangelism and counseling. He used to counsel students when they were in crisis or they were in some need. There are still students keeping the bibles given by him. He was a role model for his students, now many students studied under him are doing part time ministries as he did. He spent his own money for the cause of ministry and even applied loans for settling the amount. He was patient, soft natured and soft spoken, simple, noble and lovable but he never compromised himself for anything even it was crores of money. He never got angry for anything if he was angry then it might be righteous. He was a man of simplicity. He used to go by a bicycle and always wanted to write with ink pens only. He handled things so carefully and wanted to do all his works of his own till his death. He was a man trusted by anybody.
His love towards the family was amazing. He wanted to travel more and otherwise he was a home bird and liked to spend his time with the family. He always appreciated our beloved mother for her character, qualities, virtues, knowledge, intelligence, kindness, generosity and especially for the skills like sewing, painting, gardening, cooking, housekeeping and hospitality. Whenever it happened to travel and he never forgot to bring gifts and edibles to his wife and children. He always came with a sari for mother after returning from some sort of remunerative work or even otherwise. As it was written in Proverbs 31:10, he treasured his wife as a 'pearl' from Tuticorin. He was very keen in the academic and spiritual life and growth of the children. Though he was calm and quiet but never tolerated indiscipline. Moreover, he spent his holidays, weekends and Leisure time for doing God's ministry along with his wife and children.
Moreover, he had a great liking for Porayar. Even though he had owned a house at his native place, he never thought of leaving Porayar even after his retirement. Really we have no words to explain his love for Porayar and college. Due to chronic heart disease, he passed away on 10.01.1998. Now, his soul is resting in peace and as his heart's desire his body was buried inside the Church-College campus and even his Cemetery is opposite to his department. We are very proud of being the daughters of a righteous man and we are really gifted to have him as our father. He is our inspiration and role model and not only for us but also for the students. We pray to the almighty to lead us and guide us in the foot prints of our father till eternity.
'The steps of a good man are ordered by the Lord and he delights in his way - Psalm37:23'.