Our Beloved Mother Mrs. Vedhavalli Rajkumar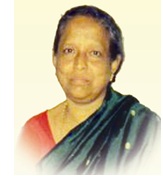 Our mother Mrs. Vethavalli Rajkumar was born on 16th September 1944. She belonged to an affluent family with a rich heritage. She had three brothers and two sisters and she was the youngest in the family and brought up with lots of love and affection. She did her school education at Galdwell and St. Alasious Higher Secondary Schools, Tuticorin and completed her PUC at St. Mary's College, Tuticorin. She lost her mother at the age of 16. She lived with her father and attended to his elderly needs till she got married in May 1963 and since our father Prof. S. Rajkumar was doing his PG degree at Loyola College and our mother was with his father till his death in November 1963. After that she spent her life with her in laws for some time and soon after our father completed his degree she went along with him to start their family life at Vellore and given birth two children, Ida and Sophia, there. She earned the love and affection of her in laws by her outstanding character. She contributed to the physical and financial needs of the family along with her husband. She got the appreciation of her mother in law as 'you are also my daughter'.
After our father went to PMT College, Usilampatti, she accustomed herself to the situation and adjusted with our father to stay there. Later on our parents became very spiritual and did God's ministry together in many places of Madurai District and there three more children were born. Our mother was very keen in our studies and she was our teacher and she only taught us Tamil and she handled all the subjects. She never permitted us to play without finishing our homework after returning from school. She was very strict with us and disciplined us with our father and never supported indiscipline. She never allowed us to go anywhere alone even it was her own sister's house. She used to tell very beautiful, intelligent, comic and biblical stories daily at night and spend most of her time with us after returning from school and prepared different varieties of snacks for us. She was good at cooking, sewing, painting, gardening, housekeeping and so on.

She was ever ready to help people when they were in some kind of problems, sick or some other need. She always joined together with our father while helping others. She used to take Sunday schools at home and afterwards encouraged us to do that. She was very good in counseling and many broken families were joined after her useful counseling and timely help. She used to give biblical counseling to believers and pastors and helped them financially when they were in terrible need. She always considered the poor and provided them for their better living. She was good at personal evangelism. She used to go to villages along with our father where there was no mode of transport at all for the sake of ministry only in spite of her poor health. She was a prayer warrior. She used to pray continuously and consistently for people till they got out of their problems. The entire family is living as a witness for Christ only because of her prayers. Our mother's kindness, hospitality, spirituality and other characteristics are explained in various messages in different forms. Altogether, she was woman of substance.
She was very beautiful and used to wear costly silk and cotton saris which added beauty to her personality. She wanted to celebrate her birthday in a grand manner and she wanted all of us to be with her at home to enjoy the dishes and to participate in all the celebrations and she used to gift saris and one gram of gold coin to all of us. She also wanted to celebrate Christmas and New Year in a very grand way. For every Christmas and New Year she bought for us very costly silk saris and she made the Co-optex people to come and give saris at home itself because of her health she could not travel and moreover she wanted to select our saris. She had the practice of giving a gold coin on every New Year eve to us. When she was died and we brought her in ambulance and on the way we thought of buying her the last sari. At Cuddalore, we stopped the car and entered into Co-optex and one person welcomed us while we entered the shop and to our surprise this was the man giving saris for us at home regularly to our mother and he asked for our mother and we said we wanted to buy a sari for her last journey and he gave us a sari of her liking with tears in his eyes.
During her last days, she spent most of her time in prayer, devotion and especially involved herself in 'Intercessory' prayer. We as daughters could say that in each and every situation of her life 'God is in the shadows……..'. She was a diabetic and asthmatic patient. She had been suffering from a severe cardiac problem since 2006 and she could not be treated for that because she was allergic to the dye while undergoing Angiogram. She had been treated by the famous cardiologist Dr. S. Thanikachalam at Sri Ramachandra Medical Centre, Porur, for the past 15 years. During the year 2011, she had been continuously affected by several health problems. She was suffering from fluid collections inside her body due to heart and kidney problems. In the month of June, one day she wanted to take Communion and Pastor Rev. Navaraj Abraham came and gave her and she was happy and very much satisfied but her health was better that time. We can understand now that she might have sensed about her death even before she was very sick. But she never opened her mouth about this.
Finally our mother was admitted very seriously at SRMC, Porur on 29th July 2011 and never returned back home since she lost her breath at 10.20 am on 25th September 2011. While she was in the hospital, she got the respect and love of everyone in the cardiac unit and in spite of her sickness she was friendly with the people and shared the gospel with them. They all felt with us because that was not expected by them too. She was buried at TELC Bethlehem Church, Porayar besides her beloved husband Prof. S. Rajkumar. Now, her soul is resting in peace after the long journey with varieties of experiences, joyous occasions and agonies too.
'He shall enter into peace: they shall rest in their beds, each one walking in his uprightness' – Isaiah 57:2